Of Montreal is one of the few bands from the Elephant Six collective that still is together. This group of bands, including Neutral Milk Hotel, Apples in Stereos, Beulah, and Olivia Tremor Control, have left a large influence on indie-pop today. Combining a very poppy sound, with a variety of other styles including funk, multi-part harmonies, and noise-rock, Kevin Barnes has created one of the more unique styles today, and undeniably catchy at that. "Spike the Senses" comes off Of Montreal's 2004 album
Satanic Panic in the Attic.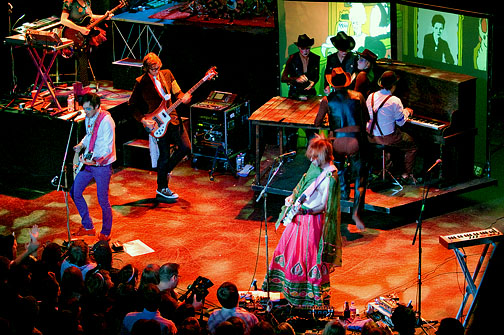 Beyond their musical creativity, the band also puts on an elaborate show between their props and costumes. Donning makeup and flamboyant costumes, these musicians not only play their songs, but create a surreal experience that captures onlookers and brings them into their fantasy world.